This document is to provide an accessible introduction to the Wf4Ever RO Model so that readers can understand "what" the RO Model provides and "how" the RO Ontologies and Vocabularies can be used to describe an aggregation object that represents scientific experiments in a structured format.
Introduction
Research Objects are semantically rich aggregations of resources that bring together data, methods and people in scientific investigations [[BECHHOFER11]]. Their goal is to create a class of artifacts that can encapsulate digital knowledge and provide a mechanism for sharing and discovering assets of reusable research and scientific knowledge.
In the EU Wf4Ever project the focus is on those Research Objets whose methods are implemented as scientific workflows. A (workflow-centric) research object (RO) is an artifact that bundles one or several workflows, the provenance of the results obtained by their enactments, other digital objects that are relevant to the experiment (papers, datasets, etc.), and annotations that semantically describe all these objects. A model that can be used to describe these workflow-centric research objects is proposed in [[RO-MODEL]]. This model is implemented as a suite of lightweight ontologies or vocabularies, building upon existing work from related communities.
This primer document aims at easing the adoption of the RO model by providing:
An intuitive explanation of the different pieces of the RO model.
Worked examples that can be followed to understand what an RO is and how its vocabularies can be used to unambiguously describe a workflow-centric RO.
The scope of this document is mainly that of developers interested in understanding how to use ontologies/vocabularies to describe research objects in order to build tool support for their management; and experimental data publishers with sufficient knowledge about Semantic Web technologies to publish details of their scientific experiments as aggregation objects and describe them in a machine-understandable, structured format, using the Resource Description Framework (RDF). In this primer document the RDF Turtle syntax is used throughout. The normative specification of the research object ontologies and vocabularies can be found in [[RO-MODEL]].
Overview of the RO Model
This section provides an overview of the RO Model. It does not cover all the details of the model. The RO Model Specification [[RO-MODEL]] provides precise definitions to be used.
Generally speaking the Wf4Ever RO model can describe the following three aspects of information:
Basic aggregation structure of an RO.
Workflow-centric Research Objects.
Annotations to an RO and its components.
Describe Basic Aggregation Structure of an RO
A Research Object is simply an aggregation of resources and annotations about them. The figure below provides an overview of the Wf4Ever RO Model, which includes the following constructs:
ResearchObject, represents an aggregation of resources. It acts as an entry point to the research object.
Resource, represents a resource that can be aggregated within a research object. As shown in the figure below, a Resource can be a Dataset, Paper, Software or Annotation. Typically, a ResearchObject aggregates multiple Resources.
Annotation, used for describing research objects, their aggregated resources, as well as the relationship between resources.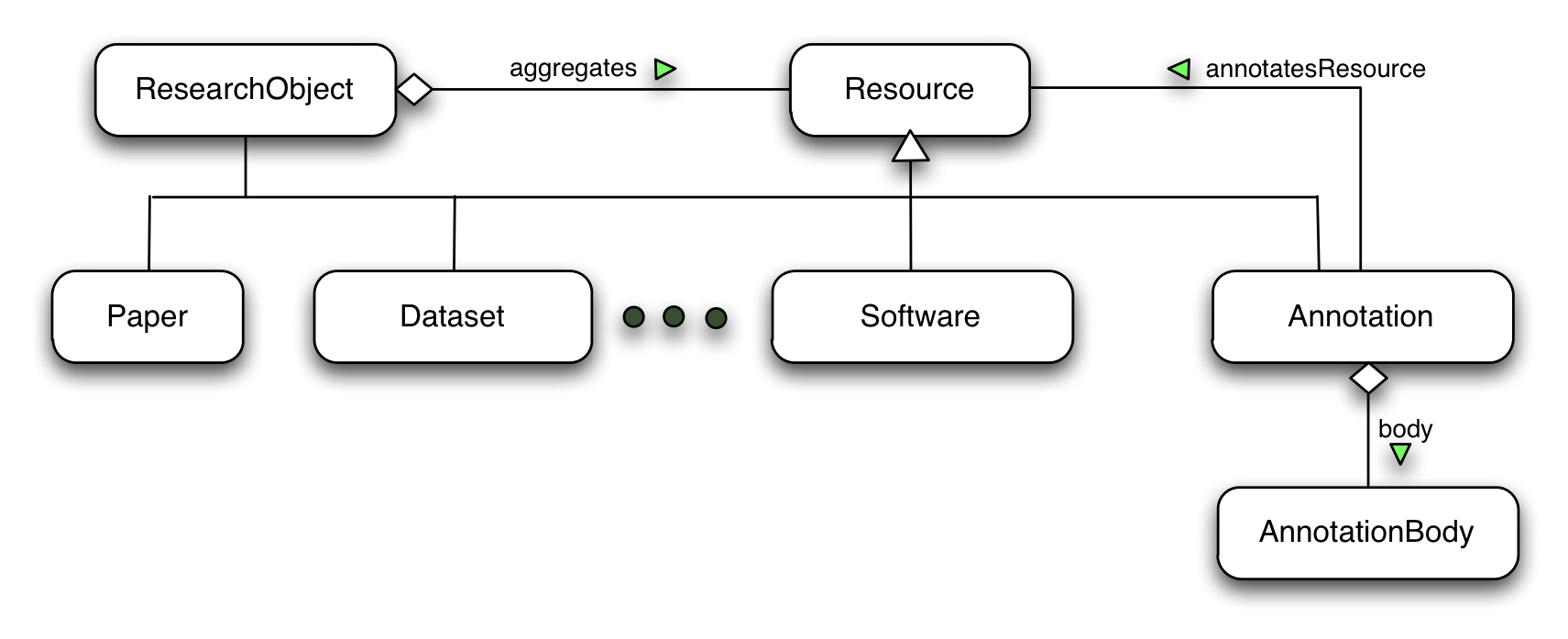 The description of a RO, such as its structure and annotations, is provided in a manifest file. This manifest file can be aggregated as part of this RO. Examples of descring a basic RO in a manifest file can be found in Section 3.1.
Describe Workflow Centric Research Objects
A special class of research object that is the primary interest of our specification are workflow-centric research objects, which refer to research objects that aggregate workflows, or more specifically workflow templates.
A workflow template is a network in which the nodes are processes and the edges represent data links that connect the output of a given process to the input of another process, specifying that the artifacts produced by the former are used to feed the latter.
A process is used to describe a class of actions that when enacted give rise to process runs. Processes specify the software component (e.g., web service) responsible for undertaking those actions.
A workflow is often executed following a template which describes each step involved in the whole execution. Templates can be designed by scientists (users) with the purpose of being able to execute the same workflow many times with different inputs for their tests, as "live-tutorials" of how some data infrastructure can be more efficiently used, etc. There are two types of templates:
Abstract workflow templates, which have some of the steps of the workflow not bound to a specific tool.
Concrete workflow templates, which have all the steps specified.
In the RO model, we are able to describe these templates plus their relationships with the executions by using the wfdesc vocabulary.
As well as workflow templates, workflow-centric research objects contain information about workflow runs, which are obtained by enacting workflow templates, and provenance of the results obtained from the runs. Examples of describing a workflow research object can be found in Section 3.2 and 3.5.
Describe Annotations to an RO and its Components
In the RO model the Annotation Ontology is used as a generic vocabulary to allow annotations to research objects, their resources, and their relationships. Three kinds of elements are used to specify annotations:
Annotation, represents the annotation itself.
Target, used to specify the resource or research object subject to annotation.
Body, the body comprises a description of the target in the form of a set of RDF statements, which can be specifying the date of creation of the target, or its relationship with other resources or research objects.
Annotations may be provided primarily for human consumption (e.g. a description of a hypothesis that is tested by a workflow-based experiment), or for machine consumption (e.g. a structured description of the provenance of results generated by a workflow run). Both kinds of annotations are accommodated using Annotation Onology structures. Examples of expressing annotations to an RO and its components can be found in Section 3.3 and 3.4.
Examples
The Wf4Ever RO model is implemented as a suite of three ontologies, which include:
The ro ontology: which provides basic structure for the description of aggregated resources and the annotations that are made on those resources.
The wfdesc ontology: which allows describing workflows. It is targeted at providing an abstraction that can be mapped to different particular workflow systems.
The wfprov ontology: which provides terms for describing provenance information about actual executions of workflows.
These ontologies were built upon existing vocabularies as much as possible, including OAI ORE (Object Exchange and Reuse) [[ORE]] and the Annotation Ontology [[AO]].
The following sections show how this suite of RO ontologies can be used to describe a basic workflow-centric RO. A "Hello World" RO is used as the running example to demonstrate how each part of the RO model can be used to describe this RO, its components and annotations to the RO as a whole and to each of its component.
The following namespaces are used in the examples:

@prefix ro:     http://purl.org/wf4ever/ro#
@prefix wfdesc: http://purl.org/wf4ever/wfdesc#
@prefix wfprov: http://purl.org/wf4ever/wfprov#
@prefix dct:    http://purl.org/dc/terms/
@prefix ore:    http://www.openarchives.org/ore/
@prefix ao:     http://purl.org/ao/
@base           http://purl.org/wf4ever/ro-primer#